Video Production Company Servicing: Miami, Fort Lauderdale, NYC, Washington, DC & Virginia
Offering National & International Video Production Services upon request.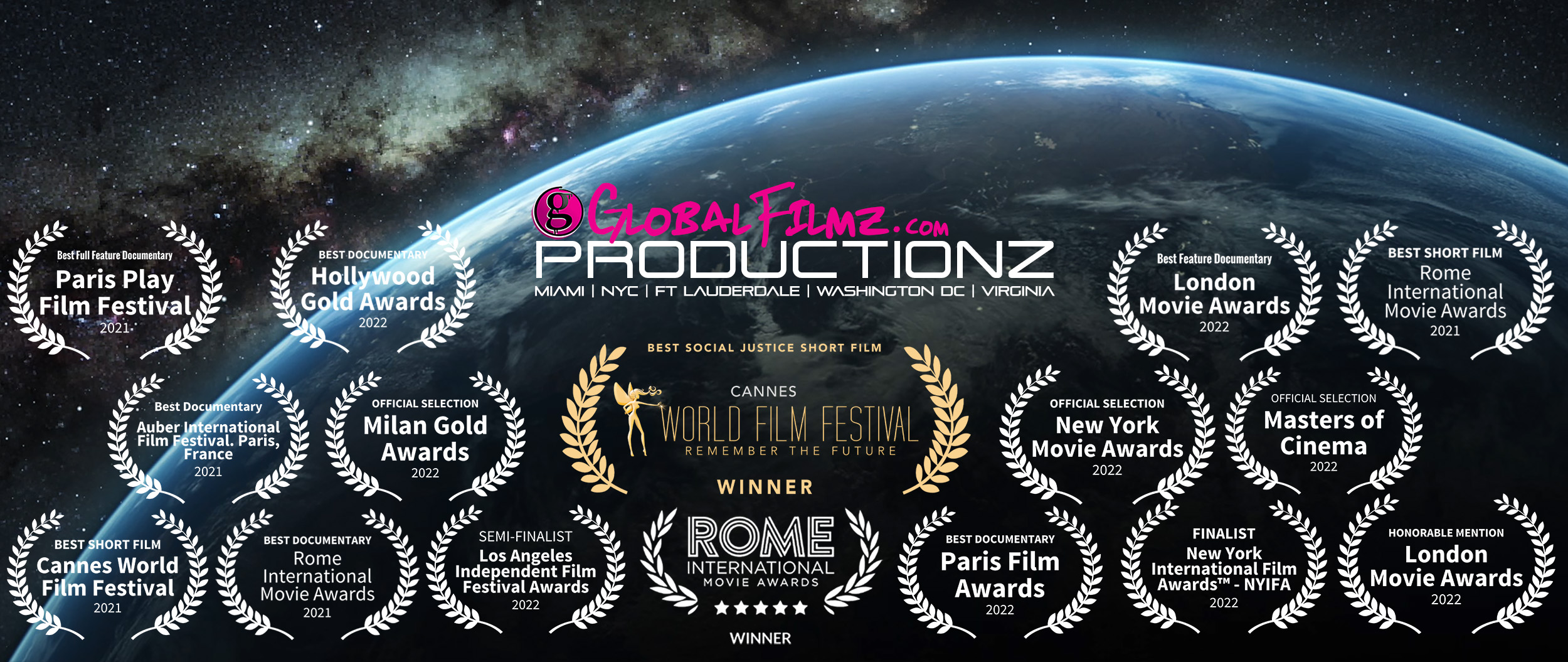 GLOBAL FILMZ EVOLUTION (2017 – 2022) REEL
MUSICAL ARTISTS LOOKING TO PRODUCE A MUSIC VIDEO? WE ARE A MIAMI BASED FULL SERVICE VIDEO PRODUCTION COMPANY, EQUIPPED WITH STATE OF THE ART SMART STUDIO / FILM SETS WHICH ARE PERFECT FOR CREATING A CONTROLLED ENVIRONMENT WHEN NECESSARY OR OUR FILM CREW CAN TAKE THE PRODUCTION TO THE STREETS/BEACHES OF MIAMI.
Corporate Video Production
IN NEED OF PROMOTIONAL VIDEOS FOR YOUR BUSINESS? WE CAN HELP YOU SHAPE YOUR DIGITAL MARKETING STRATEGY BY INTEGRATING HIGH QUALITY, PROFESSIONAL CORPORATE VIDEOS.
If you're looking for the best video production services that Miami, New York City, Washington, DC & Virginia has to offer, Global Filmz is unparalleled in talent, reliability, and overall quality. We offer comprehensive production services at competitive prices. Our video production studio has some of the most cutting edge and in-demand technology for every aspect of video production.
Video production is an intricate process let our production experts guide you. Whether you're new to video production or a seasoned professional in need of a few extra hands, we're here to support your project. Our team has produced music videos, commercials, television shows, promo videos, docu-series/documentaries, as well as short and full feature films.
Our team of video production experts will custom tailor creative solutions to any problem that arises. We can help you re-work your script, storyboards, and shot lists as needed. If you only have a rough idea of what you'd like to do, they will work side-by-side with you from the early conception phases all the way through to your project's completion.
Our clients have full-service access to our in-house writers, storyboard artists, talent scouts, cinematographers, art directors, hair and makeup artists…even dance and fight scene choreographers. Our entire team is at your disposal.
Independent Director in need of an experienced production crew and high-end equipment? We can supply aerial drones and operators, robotic camera arms and car chase camera packages. There's also a 5 ton grip truck, props, and multiple film sets ready to use.
Musical artists looking to produce a music video? Our Fort Lauderdale based video production studio is perfect for creating a controlled environment when necessary. We have various props and film sets to choose from already on location. Exotic cars, yachts, and animals can all be secured for your project.
In need of promotional videos for your business? We can help you shape your digital marketing strategy by integrating high quality, professional corporate videos.
Digital strategy is crucial to the success of any business. Whether you're an established corporation or launching a startup, creating high-quality video content is a great way to increase engagement, provide value to your audience, and build your brand's authority within your target market.
Producers unfamiliar with the area can count on Global Filmz to handle all the logistics. If you're flying in to shoot your film or video project in Miami, NYC, Washington, DC or Virginia consider Global Filmz your ultimate resource. Production coordination can be overwhelming – especially if you don't know the areas. We offer comprehensive pre-production services that will begin before you even land.
Our local fixers leverage their knowledge of the area to save valuable time and money. They can assemble travel and lodging information and arrange all aspects of your video production. We are the only video production company Miami, NYC, Washinton, DC and Virginia has that will make cuts to your budget without compromising the quality of the completed project.
When it comes to local resources for video production, Miami has a plethora of interesting locations and on-camera talent to choose from. Our production coordinators can sift through it all for you. They will secure the perfect locations, cast strong on-camera talent, and assemble your dream team behind the scenes.
Can we fix it in post? Absolutely! If you've already wrapped production and are looking for professional post production services, Global Filmz can sweeten the final product. In addition to video editing, we can create 3D Animation and graphic design elements. If you need compositing, VFX, voiceovers, and additional audio production Global Filmz can provide all the finishing touches. We have the talent, drive, and expertise necessary to help bring your creative vision to life.