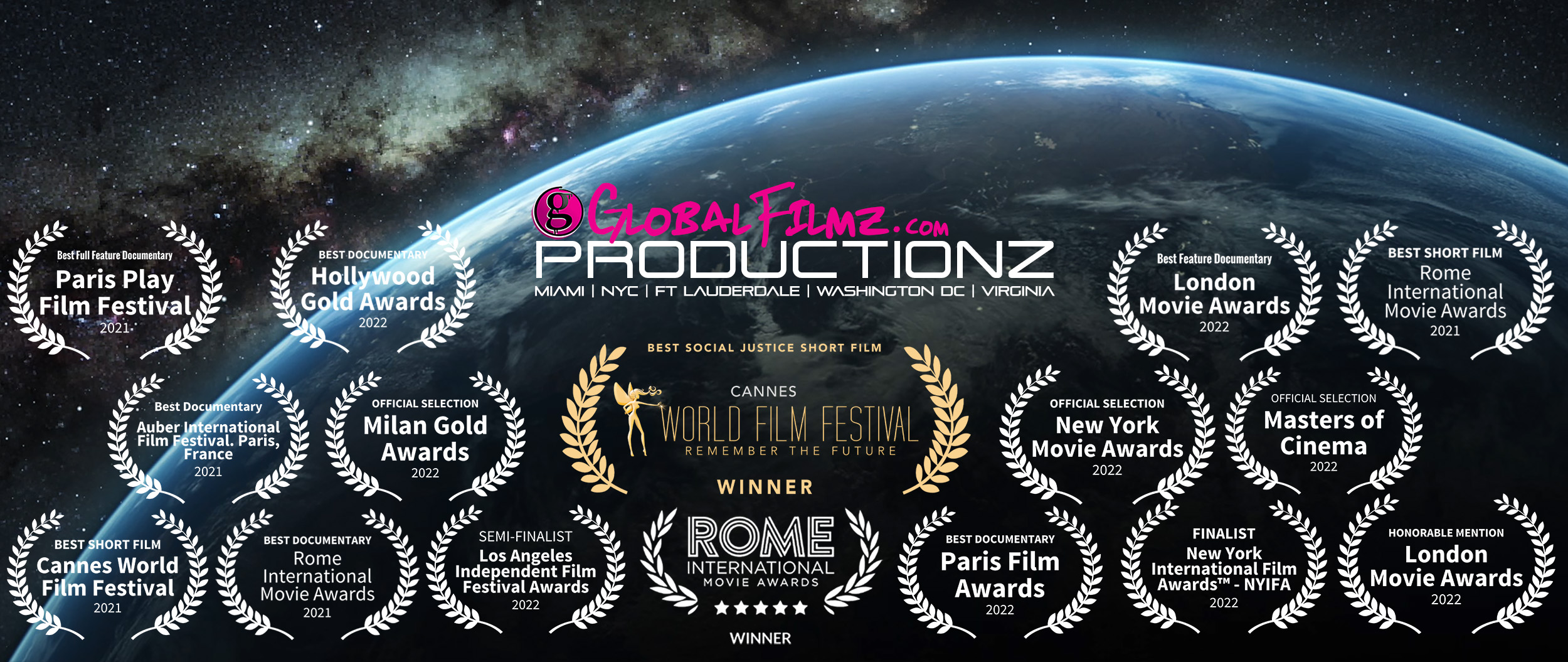 Video Editing | VFX | Post Production
We are Miami | NYC based video production company specializing in post-production from video editing, VFX, compositing, 3D Animation, motion graphic design, coloring and scoring. If you can imagine it we can bring your vision to life. Our Editors, Colorist and VFX team have over 15 years of experience and no video production project is to big or small.
POST-PRODUCTION:
$75 per hour: to give an accurate quote we will need the following, if possible:
Examples of videos that interest you.
How long you would like the final edited master's runtime to be.
Concept Overview.
Are Visual FX and/or Animation required? (If so, please explain).
Any special request? (If so, please explain).
Software: Adobe CC Collection: Premiere Pro, After Effects, Photoshop
We use a 10 step process to out post-production phase:
1. Animated Logo Reveal / Logo Sting with sound effects: client will need to provide Global Filmz their logo with a transparent background as a png, psd or pdf file. (we do not accept jpg, bmp or tiff image file).
2. Timeline / Storyboarding
3. Scoring: adding background music and/or sound effects to the video project.
4. Color Correcting:
(a)Fixing exposure problems
(b)Fixing white balance problems
(c)Repairing excessive noise from aggressive ISO settings
(d)Expanding contrast from LOG- or Flat- recorded images
(e)Developing the image from RAW recordings
(f) Setting the initial black, white and gamma points
5.

Color Grading:

A process of altering & enhancing the color of a motion picture/video images digitally. Normally used in digital video post-production to give the video a "cinematic look."
6.

Visual FX:

(also known as VFX): Our visual effects are primarily executed in Adobe After Effects.
7.

Video Overlays:

overlaying video images, png graphics, and light leaks over the main video source as layers. This technique adds depth to the video project and if executed properly will keep the viewer engaged.
8.

Motion Graphics
9. Call to Action: Please provide us via email with all the text information you would like at the end of the video for you call to action slate. Social media info, phone numbers, website, etc.
10. Credits: If credits are needed for the final edit, the client will need to provide us via email all video, audio, talent, sponsorship credits and/or special thanks if needed for the video.
GLOBAL FILMZ EVOLUTION (2017 – 2022) REEL
MUSICAL ARTISTS LOOKING TO PRODUCE A MUSIC VIDEO? WE ARE A MIAMI BASED FULL SERVICE VIDEO PRODUCTION COMPANY, EQUIPPED WITH STATE OF THE ART SMART STUDIO / FILM SETS WHICH ARE PERFECT FOR CREATING A CONTROLLED ENVIRONMENT WHEN NECESSARY OR OUR FILM CREW CAN TAKE THE PRODUCTION TO THE STREETS/BEACHES OF MIAMI.
Corporate Video Production
IN NEED OF PROMOTIONAL VIDEOS FOR YOUR BUSINESS? WE CAN HELP YOU SHAPE YOUR DIGITAL MARKETING STRATEGY BY INTEGRATING HIGH QUALITY, PROFESSIONAL CORPORATE VIDEOS.