Various rental packages available, includes Operator and 1st AC. Programming and prep day recommended but not mandatory. Location scouting is required for on-location jobs. Cameras are not included in the Cinebot Robotic Camera Arm Rental Package. RED, Arri Alexa Mini and DSLR camera rentals are available upon request.
Motion Controlled Cinebot Robotic Camera Arm Rental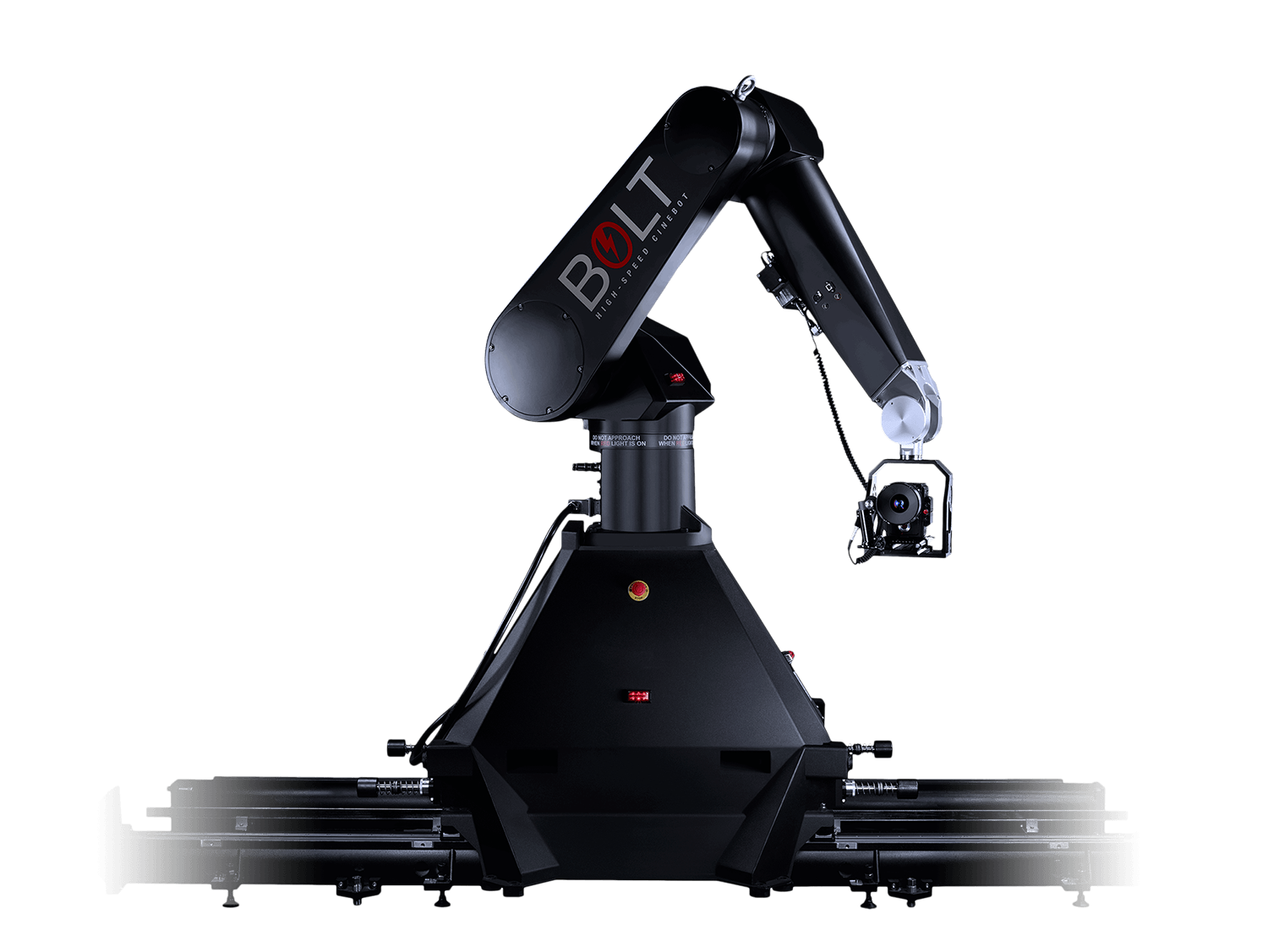 High-Speed Robotic Camera Arm

The Bolt Cinebot Robotic Camera Arm can go from 0-100 in a fraction of a second, hitting the mark precisely repeatedly. This ultra high-speed Robotic Camera Arm rental package is a perfect element to give a national commercial quality to any large or small budget productions.
Bolt High-Speed Cinebot Reel
Cinebot Robotic Camera Arm Rental

The Bolt Cinebot Robotic Camera Arm Rental package is a perfect element to add to your video production is you are looking to add that "Wow, factor." This High Speed Cinebot Camera Robot Arm is programmed to precision via the Flair software interface allowing the camera rig to give you unimaginable shots every time.
Industry Standard Software

Flair is MRMC's premier motion control software. Designed to give exceptional command over camera movement, Flair precisely controls up to 500 axes of motion and interfaces seamlessly with CGI packages. Flair is the tool that makes your vision reality.
Motion Control Robotic Arm Rental Tech Specs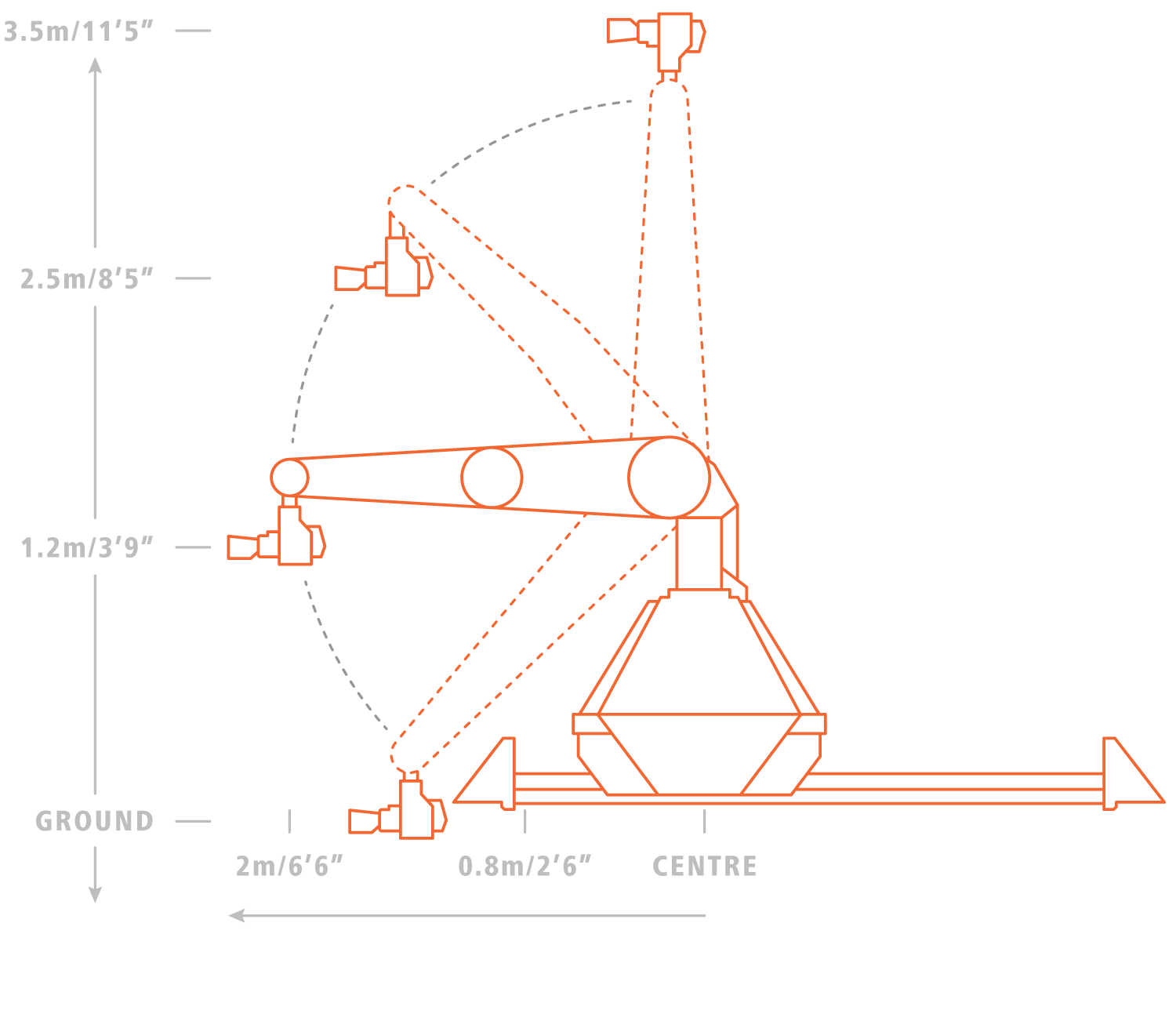 OPERATING ENVELOPE
Max Height (from ground):  3.5m / 11'5″
Max Reach (from rotate centre): 2.0m / 6'6″
RIG PERFORMANCE
Track: Unlimited range of travel @ 4.5m/s
Rotate: +/- 160˚ range of travel @ 240˚/s
Lift: +/- 137˚ range of travel @ 240˚/s
Arm: +/- 150˚ range of travel @ 300˚/s
Pan: +/- 270˚ range of travel @ 350˚/s
Tilt: +/- 120˚ / -105˚ range of travel @ 350˚/s
Roll: +/- 270˚ range of travel @ 870˚/s
PRACTICAL SPEEDS
Vertical:      1m (3'3") vertical movement /0.5s
Horizontal:  1m (3'3") horizontal movement /0.5
Arc:             Complete 180˚ arc with 75cm (2'5") radius /1.5s
                    Complete 180˚ arc with 45cm (2'5") radius /1s
RIG WEIGHTS
Bolt + Base: 600kg / 1323lbs
Maximum camera payload: 20kg / 44lbs
POWER CONNECTION
 Power Requirements: 3x 400 volts, 32 amps, 50-60Hz
 Generator: 3k VA (Bolt) 14k VA (Bolt on track)
Specialties
Think Global Media is a premiere video production company specializing in cinematography, videography, video editing, motion graphics, logo reveals, video openers, graphic design, animation and (CG) visual FX. We can mold a video production within your budget, without sacrificing the quality.
Pre-Production
We know how valuable your time is and realize that budget might be a concern. Think Global Media is a "One Stop Shop" to cover every aspect of your video production needs from the video studio, video locations, talent (actors, actresses, models, video vixens and spokesmodels) props and vehicles. We work with clients of all sizes, no video production budget is too big or too small.
Onsite-Production
We shoot with industry leading cinematic camera equipment such as the RED Digital Cinema Cameras; our team is compiled of award-winning directors, cinematographers, writers, and editors, in addition to a state of the art studio and equipment, look no further than Think Global Media.
Post-Production
When you become a client of ours, your vision will be executed and your deadline will be met. Video media is growing at an incredible rate and technology is evolving along with it; our post-production team specializing in today's leading software such as: Adobe CC: (Ae) After Effects, (Pr) Premiere Pro & (Ps) Photoshop for all of our editing projects.
History
Established in 2015.
Completed Projects:: 523
Years of Experience: 17
Cities Serviced: 228
Countries Serviced:17
Servicing the following areas:
South Florida: Palm County: Palm Beach Gardens, West Palm Beach, Wellington, Boynton Beach, Delray Beach & Boca Raton. Broward County: Deerfield Beach, Pompano Beach, Fort Lauderdale, Hollywood, Weston & Hallandale Beach. Dade County: Miami Gardens, North Miami Beach, Aventura, Key Biscayne, Kendall, Doral & South Beach Miami.
Central Florida: Orange County: Orlando, Kissimmee & Winter Park. Polk County: Lakeland, Haines City & Winter Park. Hillsborough County: Tampa, St Petersburg, Brandon & Clearwater.
South West Florida: Sarasota County: Sarasota & Siesta Key. Charlotte County: Port Charlotte & Punta Gorda Lee County: North Fort Myers, Cape Coral, Fort Myers Beach & Bonita Springs Collier County: Naples, Fl.