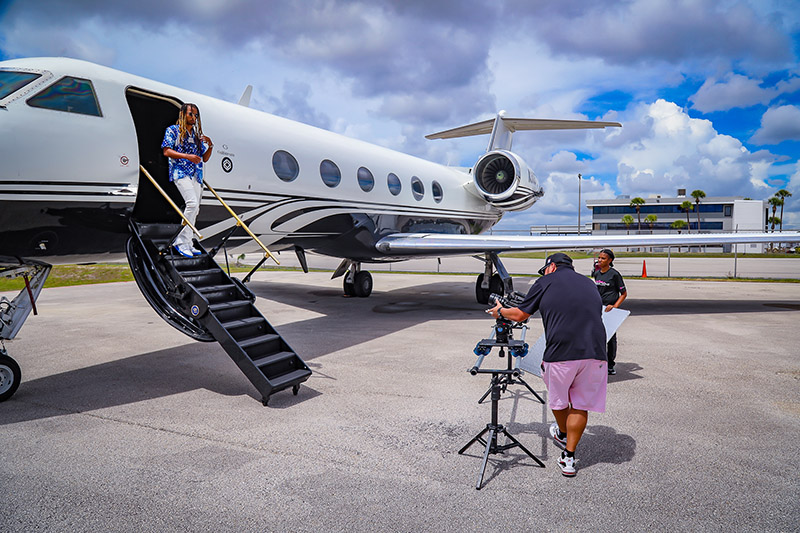 How Much Does a Corporate Video Production Cost in Miami?
How much does a corporate video production cost in Miami?
The cost of corporate video production in Miami can vary greatly depending on several factors. These factors include the length and complexity of the video, the equipment and resources required, the level of expertise and experience of the production team, and any additional services or features needed.
On average, the cost of a corporate video production in Miami can range from $1,000 to $10,000 or more. However, it's important to note that this is just an estimate and the actual cost can be higher or lower depending on the specific requirements of the project.
For simpler videos, such as a short promotional video or a testimonial video, the cost can be on the lower end of the spectrum. These types of videos typically involve a single location, minimal shooting time, and basic editing. They may also require fewer resources and equipment, resulting in a lower overall cost.
On the other hand, more complex videos, such as training videos or videos with high production value, can be more expensive. These videos often involve multiple locations, professional actors or voiceover artists, advanced equipment, and intricate editing and post-production work. Additionally, if animation or motion graphics are required, it can add to the cost as well.
It's worth noting that some Miami corporate video production companies offer package deals or customizable options to suit different budgets. They may have different pricing tiers based on the level of service and features included. It's important for businesses to discuss their budget and requirements with the production company to get an accurate quote and ensure that the final video meets their expectations.
In addition to the production costs, there may be additional expenses to consider, such as location fees, travel expenses, props, and any licensing or copyright fees associated with music or stock footage.
Overall, the cost of corporate video production in Miami can vary significantly depending on the specific project requirements. It is advisable for businesses to get multiple quotes from different production companies and compare their services, expertise, and pricing before making a decision.
When considering corporate video production in Miami, there are several important elements and steps to take into account. Here is a breakdown of the process and factors to consider:
1. Pre-production:
– Concept and Script: This involves developing a clear vision for the video, including the message, tone, and desired outcomes. A well-written script is crucial for conveying your message effectively.
– Storyboarding: Creating a visual representation of each scene in the video helps plan the shots, camera angles, and transitions.
– Location Scouting: Identifying suitable locations in Miami that align with the video's concept and requirements.
– Casting: If actors or presenters are needed, auditions or casting sessions may be necessary to find the right talent.
2. Production:
– Crew and Equipment: Hiring a professional production crew that includes a director, camera operators, sound technicians, and lighting experts. High-quality cameras, lighting equipment, and audio recording tools are essential for capturing the footage.
– Shooting: This involves capturing all the necessary footage, including interviews, B-roll footage, and any staged scenes.
– Direction and Coaching: The director guides the actors or presenters to ensure they deliver their lines or actions effectively.
3. Post-production:
– Video Editing: The raw footage is edited to create a cohesive and engaging video. This includes adding transitions, music, graphics, and effects.
– Color Correction: Adjusting the colors and tones to enhance the visual appeal and consistency of the video.
– Sound Design: Enhancing the audio quality, adding background music, and incorporating sound effects.
– Motion Graphics and Animation: If needed, these elements can be added to enhance the video and convey complex information visually.
4. Distribution and Marketing:
– Format and Resolution: Deciding on the appropriate video format and resolution for different platforms and devices.
– Video Length: Determining the ideal duration of the video based on the target audience and platform requirements.
– Distribution Channels: Choosing the platforms or channels to showcase the video, such as websites, social media, conferences, or television.
– Marketing Strategy: Planning how to promote the video to reach the intended audience effectively. This may involve utilizing SEO techniques, paid advertising, or social media campaigns.
5. Budget and Cost Considerations:
– Video Length and Complexity: Longer or more complex videos typically require more resources, equipment, and time, resulting in higher costs.
– Production Team: The level of expertise and experience of the production crew can impact the cost.
– Additional Services: Factors like animation, motion graphics, professional actors, or voiceover artists can increase the overall cost.
– Location and Travel: If shooting in specific locations or requiring travel, expenses such as permits, transportation, and accommodation need to be considered.
– Licensing and Copyright: If using copyrighted material or music, licensing fees may apply.
By carefully considering these elements and steps, businesses can ensure a successful corporate video production in Miami that effectively communicates their message and achieves their goals.
NARRATIVE FILM REEL
GLOBAL FILMZ EVOLUTION (2017 – 2022) REEL
MUSICAL ARTISTS LOOKING TO PRODUCE A MUSIC VIDEO? WE ARE A MIAMI BASED FULL SERVICE VIDEO PRODUCTION COMPANY, EQUIPPED WITH STATE OF THE ART SMART STUDIO / FILM SETS WHICH ARE PERFECT FOR CREATING A CONTROLLED ENVIRONMENT WHEN NECESSARY OR OUR FILM CREW CAN TAKE THE PRODUCTION TO THE STREETS/BEACHES OF MIAMI.
More Music Videos…(Click here)
Corporate Video Production
IN NEED OF PROMOTIONAL VIDEOS FOR YOUR BUSINESS? WE CAN HELP YOU SHAPE YOUR DIGITAL MARKETING STRATEGY BY INTEGRATING HIGH QUALITY, PROFESSIONAL CORPORATE VIDEOS.
More Corporate Videos…(Click here)
More Behind the Scenes…(Click here)