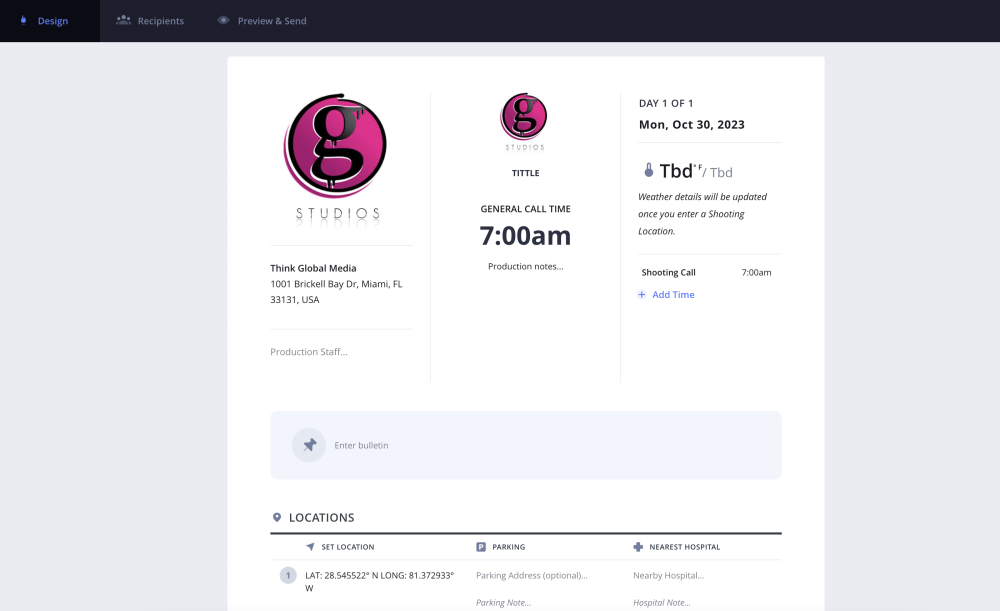 Creating a Compelling Call Sheet: A Step By Step Guide
Creating a Compelling Call Sheet: A Step By Step Guide
Creating a compelling call sheet is a crucial task in film and video production. It's a document that provides essential information to the cast and crew about the day's shoot, helping ensure that everything runs smoothly and efficiently. In this detailed article, we'll go through the steps to create a compelling call sheet.
Step 1: Gather Essential Information
The first step in creating a call sheet is gathering all the necessary information. You should have the following details ready:
Production Company Name: Start by listing the name of the production company at the top of the call sheet.
Project Title: Include the title of the project or film.
Date: Specify the date for which the call sheet is being created.
Location: Clearly mention the location where the shoot will take place.
Weather Forecast: Include the expected weather conditions for the day, so everyone can prepare accordingly.
Step 2: Create a Header
A well-organized header ensures that the call sheet is easy to read and understand. Include the following:
Project Logo: If available, add the project's logo for branding purposes.
Contact Information: Include contact details for key personnel, such as the producer, production coordinator, and assistant director.
Step 3: Schedule Information
The heart of the call sheet is the schedule. This section outlines the day's shooting schedule, including:
Call Time: Specify the time that each member of the cast and crew should arrive on set.
Shoot Schedule: Create a detailed timeline that includes scenes, locations, and estimated call times for different departments (e.g., camera, lighting, makeup).
Meal Breaks: Indicate when meal breaks are scheduled, allowing everyone to plan their meals and breaks accordingly.
Transportation: If transportation is provided, list pick-up times and locations for cast and crew.
Step 4: Cast and Crew List
Include a comprehensive list of everyone involved in the production, along with their roles and contact information:
Cast: List the actors and their characters. Include contact information in case of any last-minute changes or emergencies.
Crew: Include the crew's names, positions, and contact numbers. This may include the director, director of photography, production manager, makeup artists, and others.
Step 5: Special Instructions
Provide any special instructions or notes that the cast and crew need to be aware of. This may include:
Scene Specifics: Mention any important details about specific scenes, such as stunts or challenging shots.
Safety Precautions: If there are any safety concerns, like working with animals or hazardous conditions, highlight safety guidelines and precautions.
Emergency Procedures: Outline emergency contact information, such as the nearest hospital and fire department.
Step 6: Maps and Directions
Include maps and directions to the shooting location. This ensures that everyone can find the set without issues. If it's a remote or challenging location, consider providing GPS coordinates or landmarks.
Step 7: Attach Additional Documents
Depending on the production's needs, you may need to attach additional documents, such as:
Script Pages: Provide the script pages to be shot that day.
Storyboard Images: Include visual aids like storyboards for a clearer understanding of the shots.
Contact Lists: Attach comprehensive contact lists for various departments for easy communication.
Permits: If shooting in a public place, make sure to attach any necessary permits or permissions.
Step 8: Distribution
Distribute the call sheet to all cast and crew members. In the digital age, many productions use email or specialized software to send call sheets electronically. However, you should also have printed copies on set for reference.
Step 9: Confirm Receipt
It's a good practice to ask cast and crew members to acknowledge the receipt of the call sheet. This ensures that everyone has received and read the information, reducing the chances of misunderstandings or missed calls.
Step 10: Update as Necessary
Throughout the day, the call sheet may need updates due to changes in the schedule, weather, or unforeseen circumstances. It's essential to have a designated person responsible for updating and distributing revised call sheets as needed.
In conclusion, a well-organized and compelling call sheet is an invaluable tool in film and video production. It ensures that the day's shoot goes smoothly and efficiently, with all cast and crew members on the same page. By following the steps outlined above, you can create a call sheet that enhances communication and coordination on set, ultimately contributing to the success of your production.
NARRATIVE FILM REEL
GLOBAL FILMZ EVOLUTION (2017 – 2022) REEL
MUSICAL ARTISTS LOOKING TO PRODUCE A MUSIC VIDEO? WE ARE A MIAMI BASED FULL SERVICE VIDEO PRODUCTION COMPANY, EQUIPPED WITH STATE OF THE ART SMART STUDIO / FILM SETS WHICH ARE PERFECT FOR CREATING A CONTROLLED ENVIRONMENT WHEN NECESSARY OR OUR FILM CREW CAN TAKE THE PRODUCTION TO THE STREETS/BEACHES OF MIAMI.
More Music Videos…(Click here)
Corporate Video Production
IN NEED OF PROMOTIONAL VIDEOS FOR YOUR BUSINESS? WE CAN HELP YOU SHAPE YOUR DIGITAL MARKETING STRATEGY BY INTEGRATING HIGH QUALITY, PROFESSIONAL CORPORATE VIDEOS.
More Corporate Videos…(Click here)
More Behind the Scenes…(Click here)