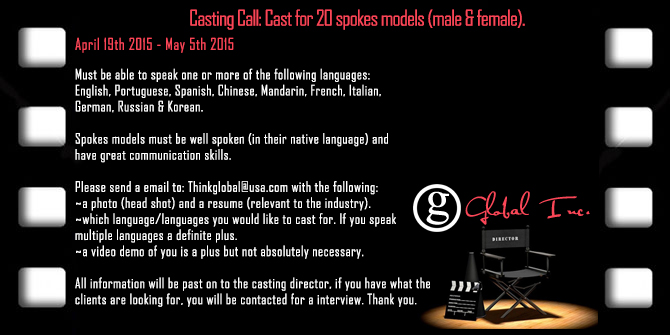 Talent Casting Call Seeking Male Female Spokes Models Actors Actresses Central South Florida
Talent Casting Call Seeking Male Female Spokes Models Actors Actresses Central South Florida.
April 19th, 2015 – May 3rd, 2015
Casting Call: Cast for 20 spokes models (male & female).
Seeking spokes models to represent a international investment firm for a corporate video presentation in 10 different languages.
Must be able to speak one or more of the following languages:
English, Portuguese, Spanish, Chinese, Mandarin, French, Italian, German, Russian & Korean.
Male spokes models: voice-over work only (will not be on camera).
Female spokes models: will be on camera presenting the client's corporate services.
Spokes models must be well spoken (in their native language) and have great communication skills.
Please send a email to: Thinkglobal@usa.com with the following:
~a photo (head shot) and a resume (relevant to the industry).
~which language/languages you would like to cast for. If you speak multiple languages a definite plus.
~a video demo of you is a plus but not absolutely necessary.
All information will be passed on to the casting director, if you have what the clients are looking for, you will be contacted for a interview.
Thank you.
Global Inc is a Central/South Florida premiere video production company, which specializes in: Cinematography / Videography, Motion Graphics, Logo Reveals, Video Openers, Bumpers, Graphic Design, Animation, (CG) Special Effects, Onsite Production & Post Production/Video Editing. We can mold a video production within your budget, without sacrificing the quality.
We shoots with industry leading cinematic cameras such as the RED Epic, the Canon 5D Mark III and the Panasonic GH4 (which shoots in 4k with an amazing slow-motion feature). Aerial Video Drones available upon request. Our team specializes in: Adobe CS6: (Ae) After Effects, (Pr) Premiere Pro & (Ps) Photoshop for our project's post production.
OUR FORTE: Music Videos, Commercials, Cinematic Short / Full-Length Films, Web Videos, Demo Reels, Highlight Video Reel, Broadcast Television and/or Youtube Video Production, Corporate Video Presentation, Video Interviews, Lower Third Design, B-roll & Story boarding.